Source: Dr. Fuh-Sheng Shieu (President, National Chung Hsing University)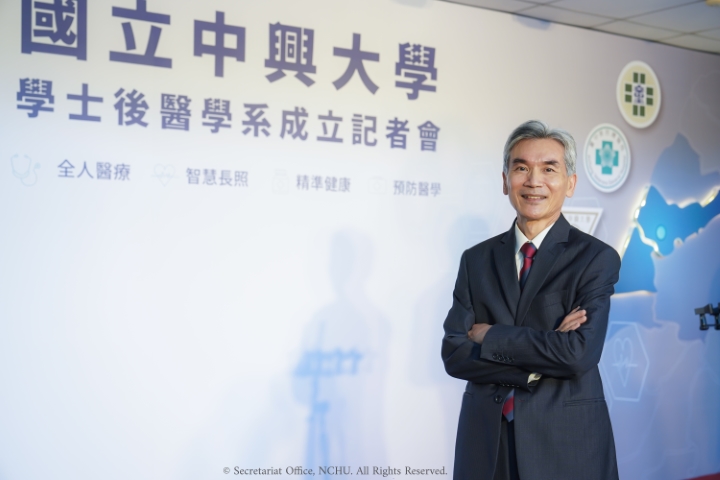 After four years of painstaking efforts, the Department of Post-Baccalaureate Medicine at National Chung Hsing University (NCHU) enrolled its first batch of post-baccalaureate medical students in 2022. Dr. Fuh-Sheng Shieu, President of NCHU, stated that the Department of Post Baccalaureate Medicine aims to cultivate medical students with diverse backgrounds, humanistic qualities, and the spirits of scientists, and it focuses on "smart long-term care", "precision health," and "preventative medicine".
NCHU creates a new paradigm of education, together with local hospitals, demonstrating its cross-disciplinary strengths
"One Health", which is actively advocated by the world to ensure the health and welfare of all living beings on earth, has made people realize that human beings are inextricably bound up with our surrounding environment and the health of the flora and fauna during COVID-19 pandemic. Dr. Fuh-Sheng Shieu, President of NCHU, said that NCHU is a comprehensive university in Taiwan providing "One Health" teaching resources. Nine departments from NCHU integrate prospective basic research with clinical medicine, bringing structural changes to the future development of NCHU. By cooperating with four teaching hospitals in the central region, NCHU will soon create a new paradigm of medical education in Taiwan!
Smart medical treatment has entered the countryside, and "medical + technology" is the focus of enriching medical research and development energy
President Fuh-Sheng Shieu stated, "Taiwan has abundant medical resources, but we all know that inequality, rather than the demand, is the reason for the conundrum." Medical resources in urban areas are sufficient, while, on the other hand, professional doctors are relatively inadequate in rural areas. Following the model of Harvard University in the United States, the Department of Post Baccalaureate Medicine integrates fundamental medical research talents with local hospitals and medical research centers to jointly cultivate medical talents for rural services. Thanks to technological advances, physicians may stay in close contact with the medical centers in remote areas and return to medical centers at any time to receive advanced education. In addition to helping people with rare and special diseases in rural communities get good medical treatments, we fulfill our social responsibility to provide high-quality medical services to the disadvantaged and needy groups.
Post Baccalaureate Medicine Department of National Chung Hsing University established a press conference on March 11, 2022.
Regional characteristic hospitals cultivate talents in "future medicine"
Taichung Veterans General Hospital is one of the leading medical centers in Taiwan in terms of teaching and medical quality. Its clinical care capabilities have been recognized nationally and internationally, and it has won the gold medal in the IC QCC competition in Japan. Besides, it has established the Asia-Pacific Rheumatology Medical Center of Excellence and the Health Education Center accredited by the International Diabetes Federation.
Changhua Christian Hospital upholds the foot-washing spirit of Jesus Christ, actively participates in international medical activities with humble services and selfless dedication, and is in line with world-class medical care. It is the medical center with the most CCPC certifications across the world.
Tungs' Taichung MetroHarbor Hospital aims at respecting life and promoting health. Its business strategy is to improve the health of the community, emphasize patient safety, enhance healthcare quality, and broaden its global vision. In 2021, it passed the JCI Accreditation.
Show Chwan Health Care System has the world's largest and most advanced minimally invasive training center, with an area of 4,960 square meters, 20 surgical training benches, and a five-star animal laboratory, from which trainees can learn a lot.